About SRB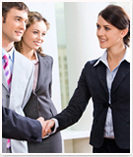 Till 2013 We Would Address Customer Base Of Defense Research, Defense Production, Defense In Uniform, Ministry Of Home, Elite Educational Institutes, Defense Suppliers. Now We Reach Out To New Customers That Include All Of Education And Industry. Besides Promoting Box Products We Also Promote Trainings And Do Take Projects On Rf And Microwave. Most Of The Sales Are Across The Country.

Technocrats Started RV Associates In 1989 In The City Of Meerut (Uttar Pradesh). In 1991 The Base Was Shifted To Delhi And Hewlett Packard Posed Confidence For Promoting Their Test & Measuring Products To A Specified Area With A Set Of Product Basket. The Area Of Operation And The Business Was Increased By Every Passing Year. After Hewlett Packard (Test & Measuring Division) Was Named As Agilent Technologies In 1999, We Started Representing Agilent Technologies. In 2004 We Started A New Company SRB Instruments Pvt. Ltd. And Continued Being Distributors Of Agilent Technologies. Now We Added More Principals Like Kemtron, UK And PCTEL, USA For Emi/Emc Shielding Gaskets And Precision Antenna. From 2005 Till 2011 We Were Registered In DGS&D (Central Government Organisation For Bulk Procurement) For Products Of Agilent Technologies. Looking At Customer Needs SRB Instruments Pte. Ltd. Was Incorporated In 2008 In Singapore.
Today We Represent GW Instek For Electronic Test And Measuring Instruments Like Scopes, Digital Multimeters, Power Supplies Etc.,
Kemtron, UK For Emi Shielding Gaskets, Shielding Windows, Honey Combs PCTEL, USA For GPS, Communication And Defense Antenna.
Andhra Electronics For Crystals And Other Related Products.
We Also Promote Other Innovative Products From Sparsha. They Support Laboratory Simulation Software For First Year Students Of Engineering Colleges.
Diametricks Supports The 6 Months Training For Students From Computer Science Branch. They Let The Students Work On Live Projects.